Shu Jia Building Next-Gen Imaging for Live Cells with NSF CAREER Award
His multiplexing microscopy platform aims for super-resolution, ultra-fast 3D images of cells
As the old saying goes, "a picture is worth a thousand words."
Biomedical engineer Shu Jia has taken that idea to heart, building a research program focused on advancing microscope technology and creating innovative approaches to imaging in biology. In the absolute simplest terms, he's helping scientists, clinicians, and researchers take better pictures of the cells and tissues they're studying.
Now Jia, an assistant professor in the Wallace H. Coulter Department of Biomedical Engineering at Georgia Tech and Emory University, is taking the next big step in his work. He's building a next-generation platform for fluorescence microscopes that could reshape how we see live cells, capturing ultrafast 3D images of single cells. His new system would vastly improve the resolution of conventional microscopes, and it would amp up a technique called microfluidics imaging to achieve detailed and clear 3D images of cells in flow in one snapshot.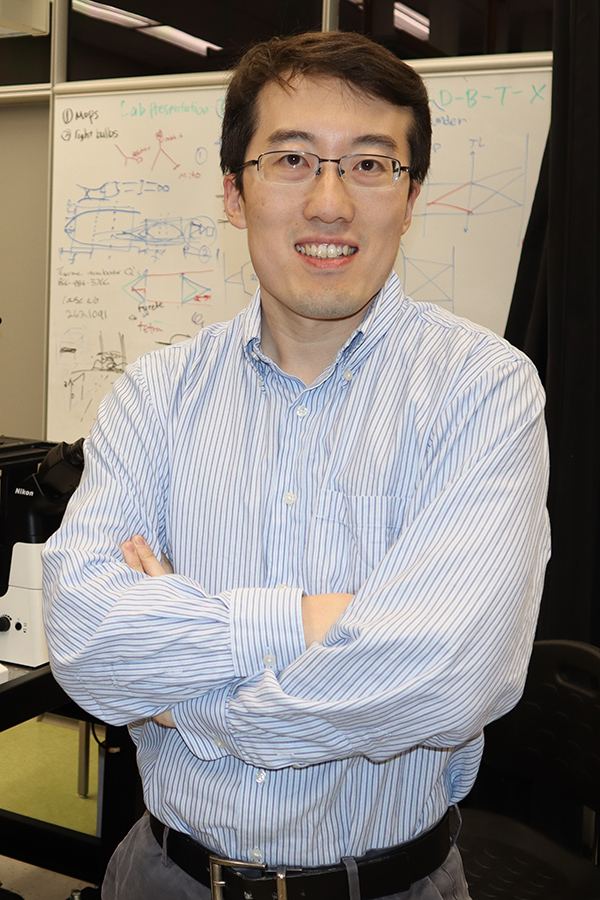 Shu Jia has won an Early Career Development Award from the National Science Foundation to develop an advanced fluorescence microscopy platform that will produce ultrafast 3D images of cells at unprecedented resolution. Jia is an assistant professor in the Wallace H. Coulter Department of Biomedical Engineering. (Photo: Walter Rich)
"You can bring any types of cells, any biological questions to this platform for imaging," Jia said, "so it would have a broad impact."
The National Science Foundation (NSF) seems to agree with the potential for Jia's work to make a real difference in the search for answers to difficult questions in health and biology. He has received a Faculty Early Career Development Award from the agency this year, a five-year grant designed to help promising researchers establish a foundation for a lifetime of leadership in their field. Known as CAREER awards, the grants are NSF's most prestigious funding for untenured assistant professors.
"This award is a very important step for our lab," Jia said. "We work to build biophotonic tools at the systems level; that means we build hardware, software, algorithms, data science, and applications — a whole pipeline. In the long term, we hope to establish and advance our leadership in this area, especially at the interface between imaging and the life sciences."
Jia calls his advanced imaging platform "multiplexing light-field instrumentation and methods," which speaks to his whole-pipeline approach to light-based biological imaging. The idea is to simplify and speed up how researchers and doctors study cells while limiting cell damage from extended exposure to light during the imaging process.
His platform includes three modules.
One module will use an array of tiny lenses to collect not just light reflected from a cell sample, but also the angle of that light. Angular information is ignored in conventional 2D microscopes, which means lots of information and context also is ignored — after all, cells are three-dimensional structures.
"This is a new type of 3D cell imaging that can provide us with a snapshot capability," Jia said. "Now we rely on scanning-based techniques — we have to scan layer by layer or piece by piece to get 3D information. That becomes very slow, and if you scan for too long, it damages the cells. The advantage for this technique is that you can minimize your photo damage and greatly enhance the speed to capture full 3D information."
The second component of Jia's proposed system would provide far great resolution than is currently possible, breaking what's known as the diffraction limit of conventional microscopes.
"We want to achieve tens of nanometers of resolution, versus 200 or 300 nanometers of resolution for conventional microscopes," Jia said. "This will allow us to resolve many finer structures in cells."
The third part of Jia's system aims to advance a technique called microfluidics imaging, or optofluidics. That approach collects images of lots single cells as they pass through chips made of silicon or glass or polymers and that have very tiny channels. Jia's platform would capture 3D images of cells in a single snapshot.
"Usually in microfluidic imaging, the cells pass by through the flow and then are gone; you're not able to recycle them to see them again. That means we can only take 2D images," he said. "With our approach, with one snapshot we have the 3D information. This will greatly enhance the information we can get."
Part of an NSF CAREER award is to integrate research and education, so along the way Jia will work to expand knowledge of biophotonics and advanced imaging beyond solely Emory and Georgia Tech. He hopes to bring in international experts to speak to researchers throughout metro Atlanta and involve high school students in hands-on experiences with optics and imaging concepts. He's also proposing summer programs and training for undergraduate students, particularly veterans.
Jia said building his next-gen system will benefit from the Coulter Department's unique bridge between Georgia Tech and Emory, enabling engineers and end-users to work together to create innovations the improve human health and well-being. In particular, he's thinking about the shared imaging resources on each campus — what are known as "core" facilities.
"Current imaging core facilities mostly use conventional microscopes. The goal for our research is to advance the infrastructure and to bring new techniques to conventional imaging cores," he said. "We have imaging cores on both campuses; how can we bridge these two cores? I think we will help to create this interface, working toward a new kind of imaging facility that can attract engineers and engineering students to develop the tools, and at the same time, we can collaborate with users on the other campus."