Elaida Dimwamwa Selected for Gilliam Fellowship
Program also includes support for her advisor Garrett Stanley to help advance diversity in U.S. science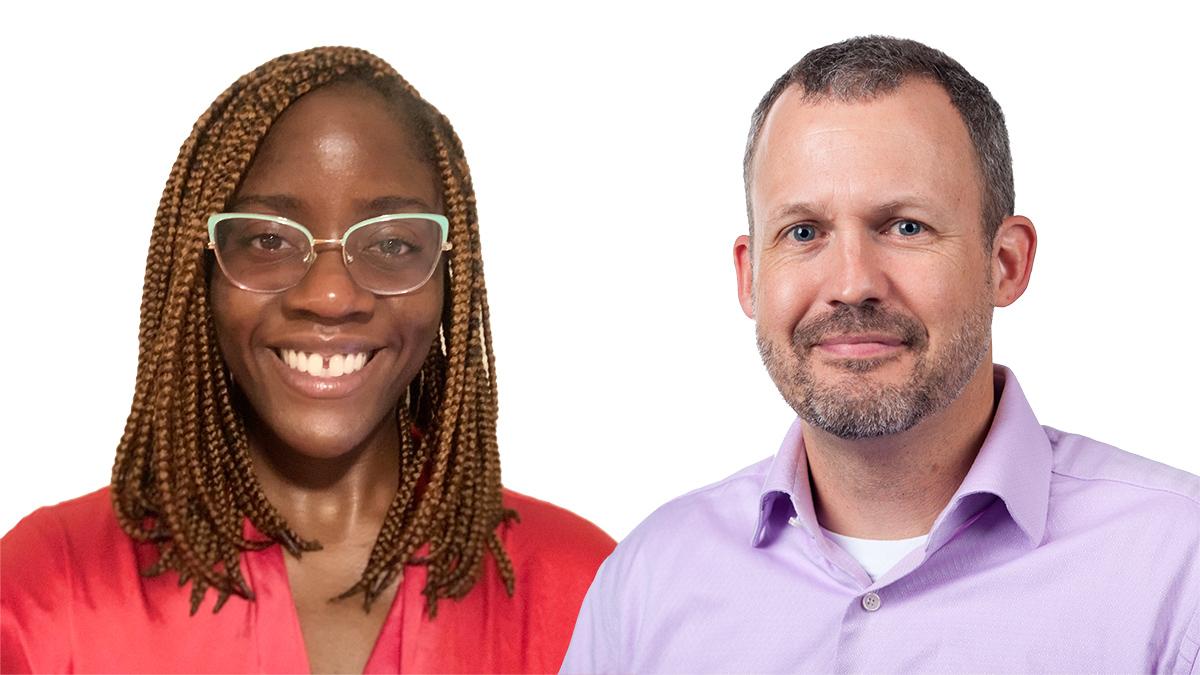 The Howard Hughes Medical Institute has awarded Ph.D. student Elaida Dimwamwa, left, a Gilliam Fellowship for Advanced Study, which includes three years of support for her and an allowance for her advisor, Garrett Stanley, to further develop his own mentoring skills and help advance diversity in science.
The Howard Hughes Medical Institute's (HHMI) Gilliam Fellowships for Advanced Study aren't like other fellowships. For one thing, they're an honor shared by two people: a graduate student — who is the fellow — and the student's advisor. 
For another thing, the benefits go far beyond the funding, according to Elaida Dimwamwa, a fifth-year Ph.D. student in the Wallace H. Coulter Department of Biomedical Engineering and among the new fellows announced July 28.
"Undoubtedly, the funding is important and of great value," said Dimwamwa, who shares the honor with her advisor, Garrett Stanley. "But the fellowship will also provide me with a network of colleagues across the country, provide professional and leadership development training, and provide resources to my advisor as we continue working together."
HHMI, a medical research organization, created the Gilliam Fellowships to advance diversity and inclusion in U.S. science. Fellows are supported for up to three years of dissertation research. For the 2022-2023 fellowship year, the award amount is $53,000 per year, which includes an advisor's allowance to support diversity and inclusion efforts at the graduate level.
"The program provides a wealth of training opportunities for me as an advisor to enhance my mentoring skills in general, but also to specifically develop skills around enhancing diversity and inclusion in science and engineering," said Stanley, professor and McCamish Foundation Distinguished Chair in the Coulter Department. He's also director of the McCamish Parkinson's Disease Innovation Program and co-director of the Neural Engineering Center at Georgia Tech and Emory University.
Stanley's lab studies how information from the outside world is encoded by patterns of spiking neurons in the sensory pathways of the brain. Dimwamwa's work focuses on sensory feedback circuits, "using modern genetic and engineering tools that only now make it possible to disentangle these networks," she said. "We want to uncover the sophisticated information processing strategies by the brain that enable us to effortlessly navigate our daily lives."
Discovery in this area of research is critical to understanding and treating a range of neurological disorders and diseases, such as epilepsy, Parkinson's disease, and more.
As excited as she is to receive support for her research program, Dimwamwa said she feels particularly grateful for the boost this honor can give her academic career. After finishing her Ph.D. training, she plans to pursue a postdoctoral position enroute to becoming a professor. 
"I am eager to merge my background as an engineer and training in neuroscience to conduct innovative research, studying the basic science underlying brain function in health and disease," she said. "I am also eager to work with, mentor, and support students from a broad range of backgrounds."
Stanley said the tools already are in place for Dimwamwa.
"In addition to being a fantastic scientist and engineer, Elaida has innate leadership skills," he said. "As she thinks beyond her science and the technical problems that she is pursuing in her own research, she will have the opportunity to significantly impact the local and global community around her."