BME Undergrad Helps Build Lab for Experiment Headed to International Space Station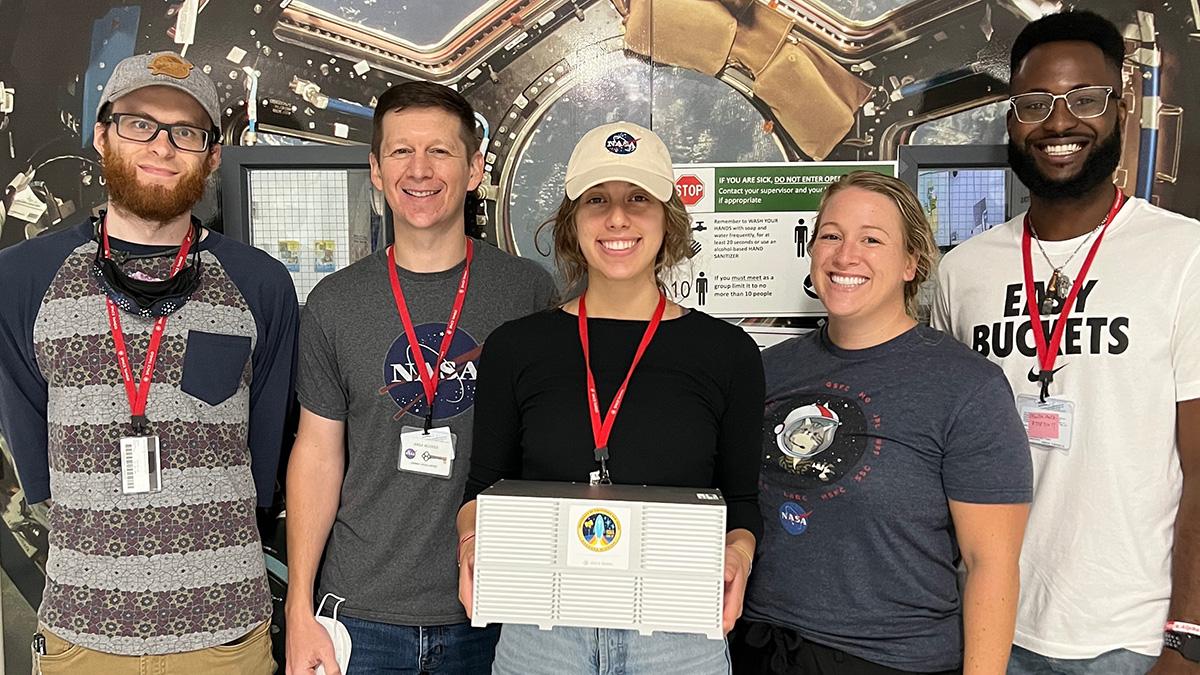 Fourth-year student Nicole Frey, center, with her team and the CubeLab she helped develop for research on brain organoids aboard the International Space Station. Frey helped build an agitation system to maintain oxygen and nutrient flow for the 3D cell cultures that fits in Space Tango's automated and remote controlled CubeLab platform. The team from Space Tango and the University of California, San Diego included, from left, Lab Manager Drew Diddle, Software Engineering Manager Zach Jacobs, Frey, Project Manager Taylor Stallings-Pinnick, and Mechanical Engineer Malik Moville. (Photo Courtesy: Space Tango)
Nicole Frey has never seen a rocket launch in person. Thursday evening, she'll get to watch one at Kennedy Space Center in Florida up close — and with more than a passing interest.
At 8:44 p.m. ET, a SpaceX Dragon capsule is scheduled to blast off toward the International Space Station carrying supplies, scientific experiments, and a payload the fourth-year biomedical engineering student has been working on for months as part of her internship with a company called Space Tango.
"It has completely reshaped what I imagined for myself, career-wise, professionally, academically," said Frey, who originally was thinking premed when she came to the Wallace H. Coulter Department of Biomedical Engineering at Georgia Tech and Emory University. "There's something about space that, once you're working on it, it's addictive."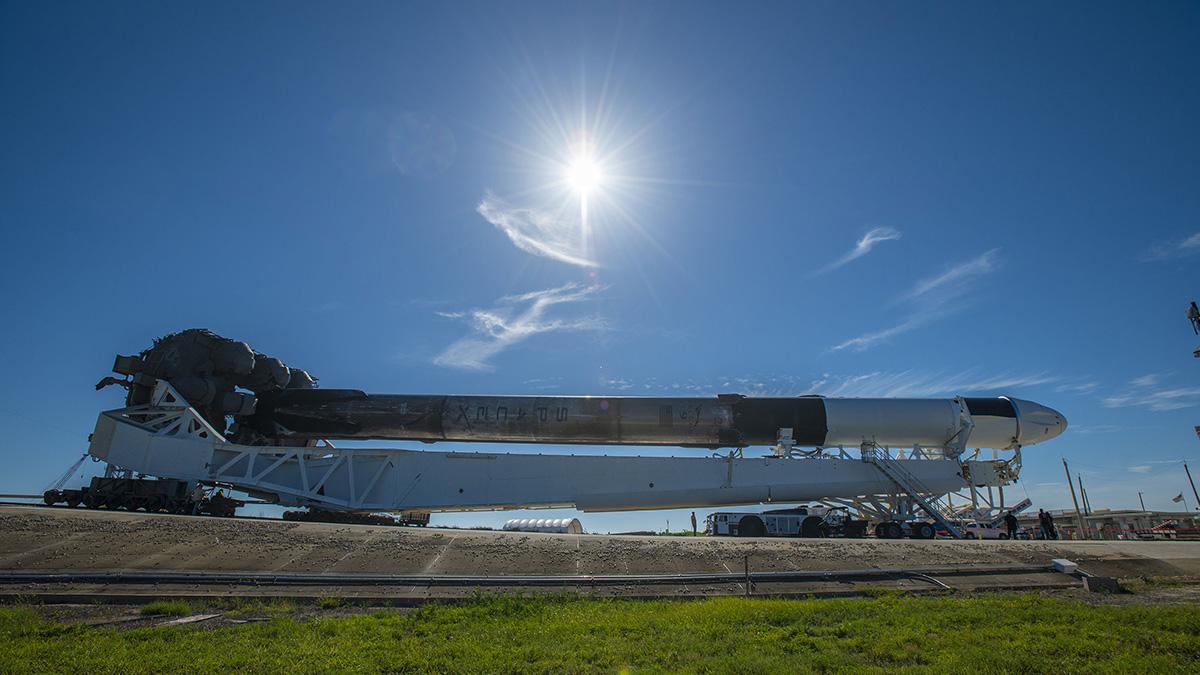 SpaceX's Cargo Dragon spacecraft, seen atop the company's Falcon 9 rocket, is rolled out to the launch pad at NASA's Kennedy Space Center in Florida on July 12 in preparation for the 25th commercial resupply services launch. The mission will deliver new science investigations, supplies, and equipment to the crew aboard the International Space Station. Liftoff is scheduled for 8:44 p.m. EDT on Thursday, July 14, from Kennedy's Launch Complex 39A. (Photo Courtesy: SpaceX/NASA)
Frey has spent the spring and summer developing a system to help replicate Earth-bound laboratory tools in the microgravity of low-Earth orbit. Space Tango is working with researchers at the University of California, San Diego to send brain organoids to the space station. The organoids are 3D cell cultures that model aspects of how the brain functions, and the team will use them to study the effects of disease, aging, and drug interactions in the brain. 
"One of the main issues with sending live culture cells up is the fact that we need to replicate a lab in space. That's really difficult, because there are a lot of volume and mass constraints on the ISS; we can't just bring laboratory devices like an orbital shaker or an incubator," Frey said. "We still need to have a good sense of how we can agitate the cells, because if organoids don't have proper agitation and they start to clump together, you have a lack of nutrient and oxygen diffusion. And, of course, the tissue structure will no longer be preserved."
To solve that problem, Frey worked on an interdisciplinary team to design and test a new kind of agitation system for the organoids that fits in Space Tango's automated, remote-controlled CubeLab platform. Then she got to help the company's engineers build it.
"Nicole's contributions have set a standard while providing an incredible example for the next generation, and especially for young women like her who are interested in STEM," said Kendall Nelson, a biological scientist at Space Tango and Frey's mentor during her internship. "Her power and perseverance are like space — boundless and infinite."
For the last week, Frey has been on site in Florida wrapping up preparations for the launch with fingers crossed. The mission, officially SpaceX Commercial Resupply Services Mission 25, was delayed by capsule technical issues in June. But with those fixed, she and the team will load their cell cultures Wednesday for Thursday's flight to orbit. The organoids and the agitation system will spend about a month aboard the space station.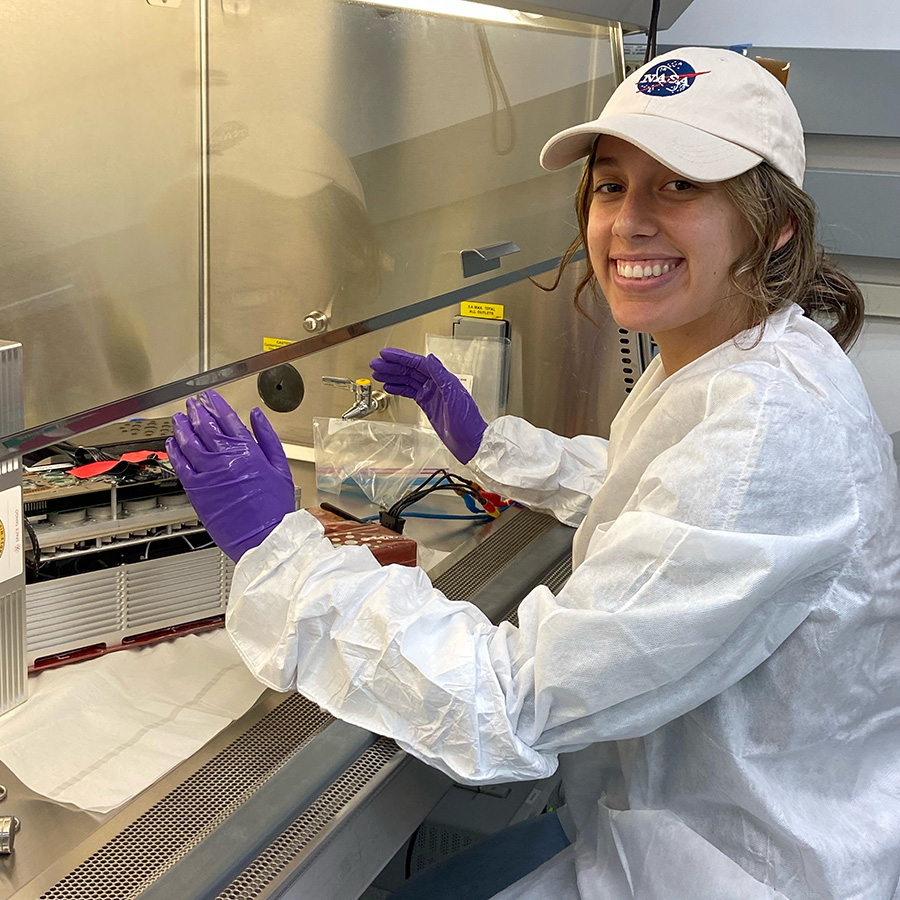 Fourth-year biomedical engineering student and Space Tango intern Nicole Frey with the CubeLab scheduled to fly to the International Space Station July 14 aboard a SpaceX Dragon capsule. UC San Diego researchers are sending brain organoids to space to study aging and disease, and Frey helped develop an agitation system to keep the cells healthy and functioning. Then she spent more than a week at Kennedy Space Center supporting the final checks of the entire system. (Photo Courtesy: Nicole Frey and Space Tango)
It's a lot of responsibility and opportunity for an intern, and Frey said she has not taken it for granted.
"I'm eternally grateful for the opportunities and the people who were willing to teach me along the way. It's not easy coming in with no real industry experience — all I had was research I'd done in high school and in my early years in college before Covid — and no one treated me any differently. No one treated me as just the intern," Frey said. "They all respected what I had to say, they valued me as a person and as a co-worker, and they saw a lot of potential in me and helped me grow."
Frey also credited Coulter BME Professor Manu Platt, who taught her cellular physiology class and opened her eyes to the impact a biomedical engineer could have in space. Platt encouraged her to look for internship opportunities at NASA contractors doing work in life sciences, which was how she found Space Tango.
Frey, who participates in the College of Engineering's Clark Scholars leadership and community service program, is just the latest Georgia Tech student whose work has hitched a ride aboard a SpaceX rocket. Most recently, two CubeSats built at Tech flew to space in December. And now that she's been bitten by the space bug, she's planning to pursue a Ph.D. in Bioastronautics and a career helping design the systems and approaches that will keep humans alive for long-duration missions to Mars and other deep space exploration. In August, she'll return to Georgia Tech, where she's starting on a new research project in Professor Krishnendu Roy's lab.
First, though, she'll get to feel the rumble of a Falcon 9 rocket and watch as it streaks skyward from coastal Florida carrying some of her own work into space. Frey said sometimes she thinks she was born too soon, that in another 40 years, space will be booming and she'll miss it.
"But my mentor at Space Tango told me, 'Just think about it like this: Everybody has to pave the way for that to happen. You get to be one of the people who gets to lay down that foundation. Embrace that.'"