Baby Beatz Team Wins Rice360 Global Health Design Competition
Video presentation about the Heartone device, created by a group of five biomedical engineering undergraduates to help healthcare providers monitor fetal heart rate during birth in Ethiopia.
A low-cost fetal heart monitor designed by Georgia Tech biomedical engineering students for communities in Ethiopia has won the 2022 Rice360 Global Technologies Design Competition.
Team Baby Beatz emerged from a group of 27 semifinalists to make the March 25 finals, where they faced a final round of questions from judges alongside two other teams.
"We're very honored to receive this recognition. We've really enjoyed being part of this competition and learning from so many clinicians and engineers in different parts of the world," team member Lydia El-Sayegh said after the event. "We hope to continue those connections after this competition."
The five Wallace H. Coulter Department of Biomedical Engineering undergraduates — Carina D'Angelo, Kadidia Haidara, Deborah Lobaccaro, Madeleine Tincher, and El-Sayegh — created a device they call Heartone as part of their Capstone Design project. Their goal is to help doctors and midwives in Ethiopia monitor babies in the womb for potential complications during birth.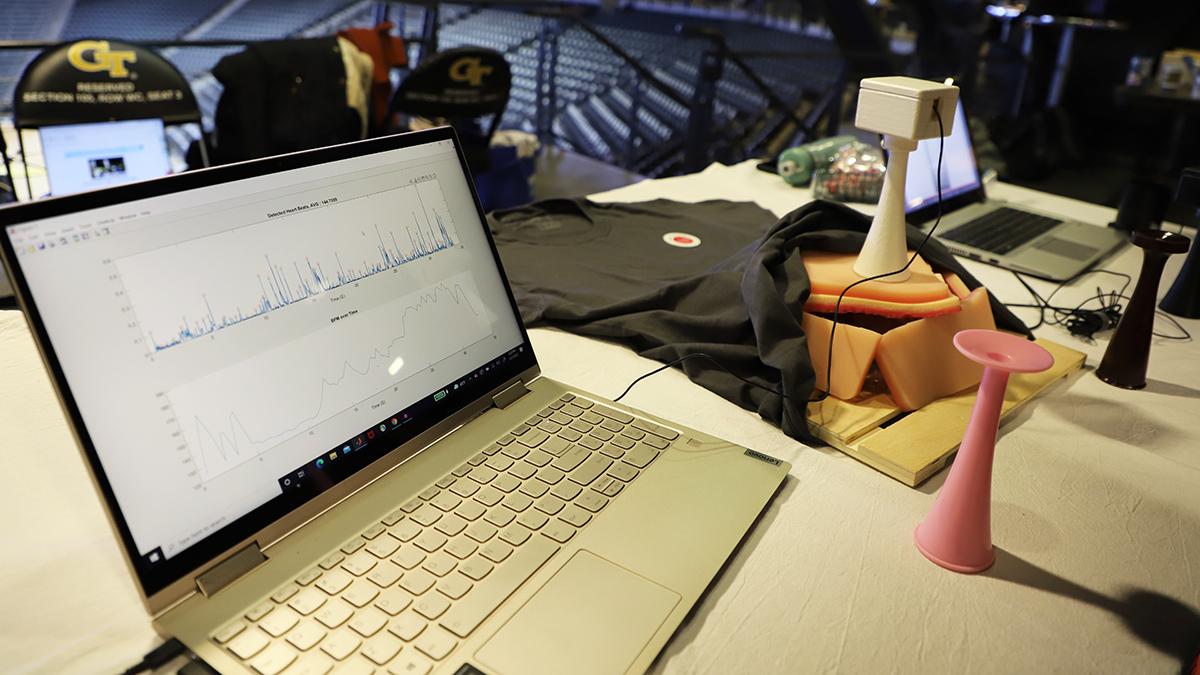 A laptop displays sample fetal heart rate data — detected heart beats in the top chart and heart rate over time on the bottom — alongside the prototype Heartone device at right atop a simulated womb. The team of five biomedical engineering undergraduates developed the device as part of the Coulter BME Global Health Capstone program and showcased their results at Georgia Tech's Fall 2021 Capstone Design Expo. (Photo: Joshua Stewart)
Problems occur in a quarter of all births in Ethiopia — and low- and middle-income countries overall see nearly 2.5 million stillbirths each year. Fetal heart monitoring is a critical tool for identifying when a baby is in distress and intervening early, but the gold-standard devices cost hundreds of dollars and are difficult to deploy in communities with limited resources.
Team Baby Beatz's device adapts the current standard of practice in Ethiopia, which involves using a pinard horn to listen to fetal heart rates. The team has combined a horn-shaped device with a microphone and built an algorithm to filter out noise and track heart rate over time. Initial testing found the device was more than 95% accurate in calculating fetal heart rates.
"We entered the design competition because their dedication to global health innovation aligns with our goal to expand access to life-saving technologies," the team said ahead of the finals. "The competition is entirely virtual, so it has allowed us to connect with people all over the world, which has given us a wider perspective on our device."
Since they debuted their device at Georgia Tech's Capstone Design Expo in December, the students have been working to refine both the hardware and software sides of their solution.
"One of the essential aspects we've focused on has been designing our device to be as effective as possible while still being inexpensive and easily repairable in low-resource settings. We've dedicated a lot of time working on getting the clearest signal possible into our algorithm by soundproofing, sealing, and making other modifications to the hardware," the team said.
Along the way, Team Baby Beatz also enlisted graduate students and experts in signal processing to refine their algorithm. The idea is to provide a fully functional app with the Heartone device that does all the processing and tracking of fetal heart rate trends for users to help them monitor the baby's health.
The team developed its device as part of the Coulter Department's Global Health Capstone program founded by Professor of the Practice James Stubbs. The group also has been advised by Research Scientist Kelsey Kubelick.
Team Baby Beatz is the third group of Coulter BME students to win the Rice360 design contest in the last four years. In 2020, students placed first with a device to fight infant hypothermia, and in 2019, the group won with another solution for low-cost fetal heart monitoring.
This story has been updated to reflect the results of the competition.