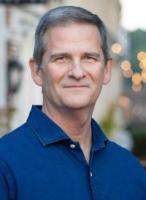 Professor of the Practice
Research Interests:
My degrees are all in nuclear engineering, though only the undergraduate degree (BS '85, UF) was truly conventional nuke. My graduate efforts combined working with the UVa nuclear reactors while doing more clinically-oriented research in the areas of cardiovascular (MS '87) and gastrointestinal (Ph.D '89) nuclear imaging. My first job was as a scientist at the Oak Ridge Institute for Science and Education. From there, I started my first company, Radiation Dosimetry Systems with two SBIR grants from the National Cancer Institute.
My first medical device startup, Proxima Therapeutics, developed two surgical devices used in radiation therapy for breast cancer and brain tumors. This company was acquired by Cytyc for $200M and I became their chief research scientist in Palo Alto, CA. 
However, it didn't take long for the startup bug to return. I left Cytyc to start two more medical device companies (Focal Therapeutics & Andare Therapeutics) and work supporting sales for a third (Cianna Medical). Focal Therapeutics sells the BioZorb™, a bioabsorbable breast implant that improves breast cosmesis following lumpectomy. Focal raised >$30M in venture capital and employs 45 people. Andare Therapeutics was developing an implantable neurostimulator for treating urinary incontinence. Here we had the misfortune of Botox getting FDA approval to treat incontinence, an event that prevented fundraising. Andare was an excellent example of how to fail rapidly!
In 2014, I began a transition to the "Dark Side" as an angel investor (entrepreneurs often view investors like they are Darth Vader). I started the Life Science vertical at the Atlanta Technology Angels in 2015, and I'm currently a board member of ATA's first medical device investment, the OB Medical Company. My career path provided the opportunity to co-author 50 journal articles and be an inventor on 35 issued and pending patents.
I met James Rains while at Venture Lab and he's always invited me to participate in the Capstone team pitch practices and attend Capstone Expo. I really enjoy that interaction with students and look forward to providing them some recent medical device startup experience and investor perspective as part of the BME Capstone program.